ONLINE SUPPORT
Tania ( Ms.)
Cellphone: 0903. 198. 854 Email:
t3nga@cholontourist.com.vn
---
608083874 (ICQ)
Email:
xuantrang@cholontourist.com.vn
Email:
xuantrang@mail.ru
HOT & PROMOTION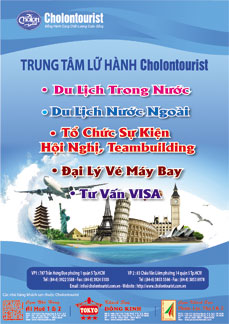 Exchange Rates
| | | | |
| --- | --- | --- | --- |
| Code | Currency name | Buy | Sell |
| USD | US DOLLAR | 23220 | 23300 |
| EUR | EURO | 26589.91 | 26907.26 |
| GBP | BRITISH POUND | 29484.07 | 29956.14 |
| HKD | HONGKONG DOLLAR | 2920.79 | 2985.42 |
| JPY | JAPANESE YEN | 207.3 | 213.8 |
| CHF | SWISS FRANCE | 23228.3 | 23694.8 |
| AUD | AUST.DOLLAR | 16898.98 | 17186.63 |
| CAD | CANADIAN DOLLAR | 17593.52 | 17947.15 |
| SGD | SINGAPORE DOLLAR | 16804.97 | 17108.22 |
| THB | THAI BAHT | 696.43 | 725.48 |
Geography
GEOGRAPHY
Shaped like an elongated S, Vietnam stretches the length of the Indochinese Peninsula and covers a surface area of 128,000 square miles–making it roughly the size of Italy or, in the U.S., New Mexico. China lies to the north, Laos and Cambodia to the west, and the South China Sea to the east.

Topographically, Vietnam is a verdant tapestry of soaring mountains, fertile deltas, primeval forests inhabited by exotic fauna, sinuous rivers, mysterious caves, otherworldly rock formations, and heavenly waterfalls and beaches. Beyond nature, the curious and open-minded visitor will find in Vietnam a feast of culture and history.

For convenience, the country can be thought of as comprising three unique areas: north, central, and south. The north is known for its alpine peaks, the Red River Delta, the plains of Cao Bang and Vinh Yen, enchanting Halong Bay, and historic Hanoi. Central Vietnam is characterized by high temperate plateaus rich in volcanic soil and by spectacular beaches, dunes, and lagoons. It is also the location of the ancient imperial city of Hue. In the South, visitors encounter modern life in Ho Chi Minh City (formerly Saigon) and the fertile alluvial delta of the Mekong River. Vietnam's territory also encompasses a large continental shelf and thousands of archipelagic islands.

Vietnam is affected by the monsoon, that's why the average temperature is lower than the other countries which are located in the same longitude in Asian. In comparing with these countries, the temperature in winter is colder and in summer is less hoter in Vietnam.
The temperature in Vietnam is high. The annual average temperatures range from 22oC to 27oC. However, the average temperature is different in every place. In Hanoi the average temperature is 23oC, in Ho Chi Minh City 26oC and 25oC in Hue. Some places like Dalat and Sapa have a maximum temperature of 20oC in the summer.

Every year there are 100 rainy days and the average rainfall is 1,500 to 2,000mm. The humidity ranges around 80%. The sunny hours is 1,500 to 2,000 and the average solar radiation of 100 kcal/cm2 in a year.

The monsoon climate also influences to the changes of the tropical humidity. In general, in Vietnam there are two seasons, a hot and rainy season (from May to October), and a cold season (from November to April the next). However the four distinct seasons are most evident in the Northern provinces (from Hai Van Pass toward to the north): spring, summer, autumn, and winter.

HA NOI
In Hanoi there are four distinct seasons: spring, summer, autumn, and winter. But it is possible to spanide the climate here into two main seasons: the rainy season from May to September (it's hot, heavy rain), and the dry season from October to April (it's cold, little rainfall). The annual average temperature is 23.2oC, but in winter the average temperature is 17.2oC. The lowest temperature ever recorded was 2.7oC in 1955. The average summer temperature is 29.2oC, with the highest ever recorded being 42.8oC in 1926. On average, there are 114 rainy days a year with around 1,800 mm of rainfall.

HAI PHONG
It's one province in the North then Hai Phong is influenced by a tropical monsoon climate too. There are 4 seasons and the annual average temperature is between 23oC and 24oC. Rainfall total between 1,600 and 1,800 mm. The weather is warm throughout thee year.

QUANG NINH
The climate is symbolic of the climate of North Vietnam; featuring all four seasons. In summer (from May to September), it's hot, humid and rainy, while monsoons flourish. In winter (from October to April), it's cold, dry, and sees little rainfall. The average temperature is over 25oC. Annual rainfall totals between 1,700 and 2,400 mm.

HUE
It features a tropical monsoon climate, featuring all four distinct seasons: spring, summer, autumn and winter. The spring is cool and warm, the summer is hot, the autumn is cool and the winter is cold. Average temperature of 25oC. The best time for tourists is from November to April next year.

DA NANG
Its climate is tropical, with two distinct rainy and dry seasons. The average annual temperature is between 28oC and 29oC, and storms hit the area every year in September and October.

DA LAT
The climate here is cold, with an average annual temperature of 180oC. Dalat is a city town, the climate is temperature and there are the beautiful natural landscapes with the waterfalls, lakes and pine groves, and is well known as Vietnam's flower city.

HO CHI MINH CITY
The climate is spanided into two seasons, with the rainy season lasting from May to November. The average annual temperature is 27.5oC without winter, and yearly rainfall totals 1,979 mm. Tourism is convenient for all 12 months of the year.
VUNG TAU
The climate here is tropical monsoon. The average annual temperature is 27.0oC, rarely stormy, rich in sunshine. Vung Tau is without winter so resorts can active throughout the year.