ONLINE SUPPORT
Tania ( Ms.)
Cellphone: 0903. 198. 854 Email:
t3nga@cholontourist.com.vn
---
608083874 (ICQ)
Email:
xuantrang@cholontourist.com.vn
Email:
xuantrang@mail.ru
HOT & PROMOTION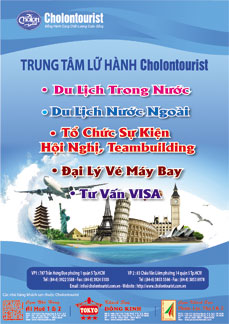 Exchange Rates
| | | | |
| --- | --- | --- | --- |
| Code | Currency name | Buy | Sell |
| USD | US DOLLAR | 23220 | 23300 |
| EUR | EURO | 26589.91 | 26907.26 |
| GBP | BRITISH POUND | 29484.07 | 29956.14 |
| HKD | HONGKONG DOLLAR | 2920.79 | 2985.42 |
| JPY | JAPANESE YEN | 207.3 | 213.8 |
| CHF | SWISS FRANCE | 23228.3 | 23694.8 |
| AUD | AUST.DOLLAR | 16898.98 | 17186.63 |
| CAD | CANADIAN DOLLAR | 17593.52 | 17947.15 |
| SGD | SINGAPORE DOLLAR | 16804.97 | 17108.22 |
| THB | THAI BAHT | 696.43 | 725.48 |
Facts & Travel Tips
FACTS
Country name:
Conventional long form: Socialist Republic of Vietnam
Conventional short form: Vietnam
Local long form: Cong Hoa Xa Hoi Chu Nghia Viet Nam
Local short form: Viet Nam
Abbreviation: SRV

Capital:
Name: Hanoi (Ha Noi)
Geographic coordinates: 21 02 N, 105 51 E
Time difference: UTC+7 (12 hours ahead of Washington, DC during Standard Time)

Location:
Southeastern Asia, bordering the Gulf of Thailand, Gulf of Tonkin, and East Sea, as well as China, Laos, and Cambodia

Geographic coordinates:
16 10 N, 107 50 E

Climate:
Tropical in south; monsoonal in north with hot, rainy season (May to September) and warm, dry season (October to March)

Terrain:
Low, flat delta in south and north; central highlands; hilly, mountainous in far north and northwest.

Languages:
Vietnamese (official), English (increasingly favored as a second language), some French, Chinese, and Khmer, mountain area languages (Mon-Khmer and Malayo-Polynesian).

Religions:
Buddhism 16.4%, Christianity 8.2%, Non-religion 29.6%, Others 0.5% (2010 census).

Population:
91,519,289 (July 2012 est.)
TRAVEL TIPS
Passport: Your passport must have at least six months' remaining validity at the time of arrival in Vietnam. If you lose your passport which contains your visa for Vietnam or the visa document issued by Vietnamese authorities, you will need to obtain an exit visa from a Vietnamese immigration office. Vietnamese authorities will not permit you to depart Vietnam until the exit visa is issued. Processing may take up to 4 working days and a fee is payable.
All foreigners are required to register their place of residence with the local police within 24 hours of arrival. Foreigners staying with family or friends in a private home must comply with this requirement. Failure to do so could result in fines. If you are staying at a hotel, this is done as part of the normal check-in process and you will be required to provide your passport to the hotel for this purpose.
Visa: You must obtain a visa prior to arrival in Vietnam. People attempting to enter Vietnam without a valid visa are generally sent back to their last port of departure. You should review all visa conditions and carefully note any conditions listed on the immigration stamp which you will receive on arrival.
Please take a note that visa on arrival in Vietnam means visa stamped on arrival with visa approval letter from Vietnam Immigration Office (must be obtained in advance).
Customs regulations: Arriving in Vietnam, all visitors must fill in Declaration Forms and show their luggage to Customs Officials upon request. There are no limited amounts of foreign currency, objects made of gold, silver, precious metals and gemstones or plated with silver or gold but visitors must declare these in detail on the customs forms.
ENTRY: Tourists are authorized to bring in the following items duty-free: Cigarettes: 400 pieces; Cigars: 50-100; Tobacco: 500 gram; Liquor: 1.5l. Small gift items valued at not more than US$ 500.
Note: There is no limit to the amounts of cash, precious metals and gems people can bring in, but amounts of over US$ 5,000 must be declared.
It is prohibited for any visitor to bring into Vietnam the followings:
* Weapons, explosives and inflammable objects.
* Opium and other narcotics.
* Cultural materials unsuitable to Vietnamese society.
EXIT: Goods of commercial nature and articles of high value require export permits issued by the Customs Office. Antiques, some precious stones and animals listed in Vietnam's red-book may not be brought out of the country.
Baggage: Airline baggage allowance regulations are based on a weight and measurement system. Combined overall dimensions for checked baggage can not exceed 106 inches. Carry-on luggage cannot exceed 45 inches. For flights within continents baggage is limited to 44 lbs. (20 kilos). One bag not to exceed 106 inches may be taken on escorted programs. For additional bags, there will be an additional charge of approximately $3 per bag per handling.
Weather: The weather in Vietnam varies depending on your location. The North has four seasons and can get quite cold in winter, with temperatures dropping to 5-6 C, or below zero in the mountainous areas in the North. Central Vietnam is warmer and has two seasons; it is not as humid as the tropics. In the South, the climate is tropical, and the temperature ranges from 25-37 C.
Vietnam is a tropical country. Most of the year is warm and humid. If you are not used to tropical weather, be prepared to shower and change your clothes two or three times a day. During rainy season in Saigon the rain is often short (20-30 minutes) and some times quite sudden.
Currency: The Vietnamese currency is the dong (abbreviated "d" or VND). Bank coins are 500, 1000, 2000, 5000. Bank notes are 1,000; 2,000; 5,000; 10,000; 20,000; 50,000; 100,000, 200,000 and 500,000d.
Cash is best in most places in Vietnam. Many small restaurants and shops do not accept credit cards. You could also use traveller's cheques; these can be cashed at major banks in the large towns.
Food: In general, eating out is cheap, and there are heaps of clean restaurants to choose from in the cities. You can find a local restaurant close to where you're staying when you get there.
Meals will usually include rice or noodles as staples along with a vast array of vegetables, and meats like chicken, duck, beef, and pork. Good quality seafood (fish, calamari, prawns and crab) is widely available and you'll find that fish sauce is a condiment which accompanies almost every meal. The most famous Vietnamese dish is spring rolls either deep fried (known as cha gio in the south and nem ran in the north) or served fresh (bi cuon/bo bia) with a combination of raw vegetables and grilled prawns, crab, pork or chicken. Pho (noodle soup) - a well-known Vietnamese dish, served with either chicken or beef, fresh green leaves, beans sprouts, and red chilly is also found throughout the country.
The French colonial period has left a legacy of delicious continental food. Often street cafés have a distinctly French feel with crispy baguettes, pate, crème caramel, banana flambé, and sweet pastries on the menu.
If you have food allergies or preferences, please make them known to your Tour guide who will do their best to ensure that your requirements are met.
Safety: We advise you pay close attention to your personal security in Vietnam. Street crime and harassment occur, especially in larger cities. Aggravated theft and assault occur, particularly in Hanoi, Ho Chi Minh City, Nha Trang, Sapa (particularly on the train to/from Lao Cai) and Cat Ba Island (near Ha Long Bay).
Petty theft, including bag-slashing, is also common in tourist areas, markets, on crowded trains, buses and at supermarkets.
Snatch-and-grab crimes against pedestrians by thieves on motorcycles are frequent and have sometimes resulted in injury to victims. Be aware that jewellery, handbags and cameras are popular targets for criminals. Pay close attention to your personal possession at all times and avoid carrying or wearing objects that can be easily grabbed.
There have been reported cases of tourists becoming victims of gambling and taxi scams. At airports, travellers are advised to use airport taxis, prearranged hotel transfer services or taxis from clearly marked taxi ranks with minders. Check that any person holding a placard with your name on it knows your destination. Be aware of people who are overly friendly towards you and invite you back to their home. These approaches may lead to gambling scams, in which some forreigners have lost thousands of dollars.
Internal conflict is rare in Vietnam, although some localised violent clashes between protesters and police have, in the past, resulted in a small number of casualties. You should avoid all public gatherings and demonstrations as they have the potential to turn violent. You should avoid taking photographs of demonstrations, the military or police as this may not be tolerated by the Vietnamese authorities.
Health: We strongly recommend that you take out comprehensive travel insurance that will cover any overseas medical costs, including medical evacuation, before you depart. Confirm that your insurance covers you for the whole time you'll be away and check what circumstances and activities are not included in your policy.
The mosquito-borne illness dengue fever is prevalent in Vietnam, particularly in the south. We recommend you take measures to avoid mosquito bites including using insect repellent at all times, wear long, loose-fitting, light coloured clothing, ensure your accommodation is mosquito proof and that you ask your doctor about whether you need to take prophylaxis against malaria.
Acute watery diarrhoea and cholera occur in Vietnam, with more serious outbreaks occurring from time to time, particularly in the capital Hanoi and surrounding northern provinces. Careful preparation of food and good personal hygiene are strongly recommended.
We advise you to boil all drinking water or drink bottled water with intact seals and to avoid ice cubes, raw and undercooked food and unpasteurised dairy products. Seek medical advice if you have a fever or are suffering from diarrhoea.
International SOS in Hanoi:
31 Hai Ba Trung Street.
Tel: +844 934 0666, emergency: +844 934 0555
International SOS in Ho Chi Minh City:
65, Nguyen Du Street.
Tel: +848 829 8520, emergency: +848 829 8424
Shopping: The following items are quite unique and have good quality:
- Carved wooden furniture, fine lacquer ware (these can be shipped home upon request).
- Traditional Vietnamese hand-made silk, linen and cotton dresses, embroideries, conical hat, etc.
- Simulated antiques, ceramics, old watches, etc.
- Copies of famous paintings.
Local travel: Traffic accidents occur often in Vietnam. Motorcycle and inter-city bus travel have particularly high accident rates. You should consider the risks of driving a car or riding a motorcycle in Vietnam, particularly if you are unfamiliar with local conditions. If you are involved in an accident, you may be required to make large compensation payments.
You should be aware that you must have a valid Vietnamese driver's licence to drive in Vietnam, including for motorcycles of 50cc or more. Under Vietnamese law, you must wear a helmet at all times when riding a motorcycle in Vietnam, including when travelling as a passenger.
Taxis with meters are available in big cities. The current price is about US$ 0.75 per kilometer. Most metered taxi drivers can speak a little English.
Clothing: Appropriate dress differs from North to South. Southern Vietnam is tropical year round and people dress comfortably and casually. Lightweight cotton and wool fabrics will be comfortable at any time of year. Jeans are almost always fashionable except for business occasions.
Winter (November through March) can be cool in Hanoi, and a coat may be necessary. Dress here is a bit more formal and somber than the fashionable South.
Don't wear short pants and sleeveless shirts when you go to the Pagodas.
Business hours: (GMT + 7)
- Offices: 07:30 a.m to 11:30 a.m and 01:30 p.m to 04:30 p.m, closed on Saturday and Sunday.
- Banks: 08:00 a.m to 12:00 a.m and 01:30 p.m to 05:00 p.m, closed on Saturday and Sunday.
Electrical current: 110-220 volts A.C.
Telephone: Long distance calls should be made at post offices, hotels or telephone booths (phone cards are available at post offices).
Mobile phones are provided by Vinaphone, Mobiphone, Viettel and some other companies.
Country Calling Code is 84.