ONLINE SUPPORT
Tania ( Ms.)
Cellphone: 0903. 198. 854 Email:
t3nga@cholontourist.com.vn
---
608083874 (ICQ)
Email:
xuantrang@cholontourist.com.vn
Email:
xuantrang@mail.ru
HOT & PROMOTION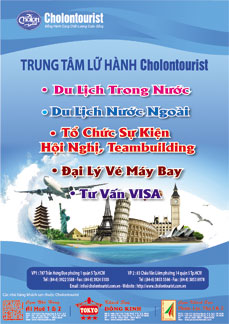 Exchange Rates
| | | | |
| --- | --- | --- | --- |
| Code | Currency name | Buy | Sell |
| USD | US DOLLAR | 23220 | 23300 |
| EUR | EURO | 26589.91 | 26907.26 |
| GBP | BRITISH POUND | 29484.07 | 29956.14 |
| HKD | HONGKONG DOLLAR | 2920.79 | 2985.42 |
| JPY | JAPANESE YEN | 207.3 | 213.8 |
| CHF | SWISS FRANCE | 23228.3 | 23694.8 |
| AUD | AUST.DOLLAR | 16898.98 | 17186.63 |
| CAD | CANADIAN DOLLAR | 17593.52 | 17947.15 |
| SGD | SINGAPORE DOLLAR | 16804.97 | 17108.22 |
| THB | THAI BAHT | 696.43 | 725.48 |
Facts & Travel Tips
FACTS
Country name:
Conventional long form: Lao People's Democratic Republic
Conventional short form: Laos

Capital:
Vientiane is the capital of Laos. It became the capital of the country in 1563 due to fears of Burmese invasion. The capital city is situated on the Mekong River, and has an estimated population of 754,000 inhabitants.
Time difference: UTC+7 (12 hours ahead of Washington, DC during Standard Time)

Location:
Lao People's Democratic Republic is a landlocked country in Southeast Asia. It has an estimated population of 6.8 million inhabitants. It is bordered by Burma and People's Republic of China to the northwest, Vietnam to the east, Cambodia to the south, and Thailand to the west.

Climate:
Tropical; rainy, monsoon season (May to November); dry season (December to April); little seasonal temperature variation

Terrain:
Mostly low, flat plains; mountains in southwest and north

Languages:
The official language of Laos is Lao, although French is still common in government and commerce. English has become popular in the region. The minorities in the country speak Khmu and Hmong.

Religions:
Buddhist 67%, Christian 1.5%, other and unspecified 31.5% (2005 census)
National days:
On December 2, 1975 the people of Laos finally overcame the monarchy and since then, this day is celebrated as the national day of Laos. After the end of the Vietnam war, the Communist-led Pathet Lao took the entire political control of the country and forced the King Savangvatthana to abdicate.

Population (2014 est.):
6,803,699 (growth rate: 1.59%); birth rate: 24.76/1000; infant mortality rate: 54.53/1000; life expectancy: 63.51.
TRAVEL TIPS IN LAOS
Passport: Your passport must have at least six months' remaining validity at the time of arrival in Laos.
Visa: You should ensure you obtain an entry stamp on arrival. Failure to do so may result in a fine.
You should use only official border crossing points to enter Laos.
Customs regulations: Arriving in Laos, all visitors must fill in Declaration Forms and show their luggage to Customs Officials upon request. The travelers shall be allowed to import free of import duties and taxes the following goods, in addition to necessary wearing apparel and personal effects including personal jewelry: 1 liter of sprits and 2 liters of wine, 200 cigarettes or 50 cigars or 250 grams of tobacco, 1/4 liter of toilet water and 50 grams of perfume, one used camera or video camera with 10 rolls of film, one used cine-camera, one used audio-cassette recorder, one used radio receiver, used articles for sport and a camping tent with accessories, one used perambulator.
The commercial goods and items of high value being taken out of Laos require export permits from the customs service. The export of local currency is forbidden. The travellers can take with them unlimited amounts of souvenirs bought with receipts to show proof of purchase. The prohibited items are antiques, non-prescribed drugs, firearms, pornography.
Baggage: Airline baggage allowance regulations are based on a weight and measurement system. Combined overall dimensions for checked baggage can not exceed 106 inches. Carry-on luggage cannot exceed 45 inches. For flights within continents baggage is limited to 44 lbs. (20 kilos). One bag not to exceed 106 inches may be taken on escorted programs. For additional bags, there will be an additional charge of approximately $3 per bag per handling.
Weather: Most of the year is hot and humid. Laos enjoys a tropical climate with two distinct seasons. The rainy season is from the beginning of May to the end of September, and the dry season is from October through April. The yearly average temperature is about 28 degrees Celsius, rising to a maximum of 38 degrees Celsius during April and May.
In Vientiane a minimum temperature of 19 degrees Celsius is to be expected during January. In mountainous areas, however, temperature drops to as low as 14-15 degrees Celsius during the winter months, and during cold nights, can easily reach the freezing point. The average precipitation is highest in Southern Laos, where the Annamite Mountains receive over 3,000 mm. annually. In Vientiane rainfall is about 1,500-2,000 mm, and in the Northern provinces only 1,000-1,500 mm.
Currency: The Kip is the official currency of the Lao PDR and the following bank notes are currently in circulation: 500; 1,000; 2,000; 5,000; 10,000; 20,000 and 50,000 Kip.
The best currencies to use when exchanging money are: US Dollars, Euros and Thai Baht. You can exchange your currency at the bank, airport, or at a foreign currency exchange office.
Visa card is the most common. Master Card and American Express are accepted at most banks in the larger towns (such as Vientiane and Luang Prabang), and in the big hotels, restaurants and souvenir shops.
Foods: The cuisine of Lao originates from the ethnic groups of Laos and Northeast Thailand. The local food is distinct from other Southeast Asian cuisines. The staple food of the Lao is sticky rice. Galangal and fish sauce are important ingredients. The Lao national dish is laap (sometimes also spelled larb), a spicy mixture of marinated meat and/or fish that is sometimes raw (prepared like ceviche) with a variable combination of greens, herbs, and spices. Another characteristic dish is tam mak houng, green papaya salad.
The cuisine of Laos has many regional variations, according in part to the fresh foods local to each region. In Laos, a French influence is also apparent in the capital city, Vientiane, such that baguettes are sold on the street, and French restaurants (often with a naturally Lao, Asian-fusion touch) are common and popular.
Safety: We advise you pay close attention to your personal security in Laos.
Some restaurants in popular tourist locations offer drug-laced food and drink which may contain harmful and unknown substances. The unknown additives in these foods and drinks can be dangerous and may result in serious illness and death. Travellers have been assaulted after accepting 'spiked' food and drink. Never leave food and drink unattended.
Petty crime, including bag snatching by thieves on motorcycles and theft from guest houses, occurs frequently. In the lead up to local festivals, such as Lao New Year in April, there is a significant increase in theft and violent crime.
You should reconsider your need to travel in Xaisomboun district, east of Vang Vieng, due to the risk of bandit attacks.
Travellers should be particularly vigilant when travelling on Route 7 (Phou Khoun to Phonsavanh) or Route 6 (near the town of Sam Neua, Huaphan Province).
Health: We strongly recommend that you take out comprehensive travel insurance that will cover any overseas medical costs, including medical evacuation, before you depart. Confirm that your insurance covers you for the whole time you'll be away and check what circumstances and activities are not included in your policy.
Medical facilities in Laos are extremely basic. Many doctors and hospitals require cash payment prior to providing services, even for emergency care.
Malaria is a risk in rural areas of Laos. Other mosquito-borne diseases, such as dengue fever and Japanese encephalitis, are prevalent in Laos, especially during the rainy season. We recommend you take prophylaxis against malaria and take measures to avoid mosquito bites, including using insect repellent at all times, wearing long, loose-fitting, light coloured clothing and ensuring your accommodation is mosquito proof.
Water-borne, food-borne and other infectious diseases (including HIV/AIDS, cholera, hepatitis, rabies and tuberculosis) are prevalent with more serious outbreaks occurring from time to time. We encourage you to consider having vaccinations before travelling. We advise you to boil all drinking water or drink bottled water, and avoid ice cubes and raw and undercooked food. Do not swim in fresh water to avoid exposure to certain water-borne diseases such as schistosomiasis.
Shopping: Silk and cotton fabrics, objects made from wood (sculptures, cut-out figures), pottery and traditional instruments are part of the rich tapestry of Laotian craftsmanship.
Local travel: Extreme caution is recommended if undertaking river-based sporting activities, including in Vang Vieng. Tourists have been killed or seriously injured while participating in river-based activities such as tubing or jumping into the river. River levels can vary during the year and the presence of debris in the river can make diving or jumping into the river dangerous. Travellers considering participating in river based activities should carefully consider their personal safety and take appropriate precautions. See our Partying Overseas travel bulletin for advice on some of risks and tips on avoiding becoming a victim.
Unexploded ordnance is prevalent in many parts of Laos, particularly in Xieng Khouang province (location of The Plain of Jars) and the Lao-Vietnamese border areas along the Ho Chi Minh trail. Straying from established walking paths and roads can be dangerous as affected areas are often unmarked.
Clothing: Appropriate dress differs from North to South. Southern Vietnam is tropical year round and people dress comfortably and casually. Lightweight cotton and wool fabrics will be comfortable at any time of year. Jeans are almost always fashionable except for business occasions.
Winter (November through March) can be cool in Hanoi, and a coat may be necessary. Dress here is a bit more formal and somber than the fashionable South.
Don't wear short pants and sleeveless shirts when you go to the Pagodas.
Business hours: (GMT + 7)
- Offices: 07:30 a.m to 11:30 a.m and 01:30 p.m to 04:30 p.m, closed on Saturday and Sunday.
- Banks: 08:00 a.m to 12:00 a.m and 01:30 p.m to 3:30 p.m, closed on Saturday and Sunday.
Electrical current: 110-220 volts A.C.
Telephone: Country Calling Code is 856.