ONLINE SUPPORT
Tania ( Ms.)
Cellphone: 0903. 198. 854 Email:
t3nga@cholontourist.com.vn
---
608083874 (ICQ)
Email:
xuantrang@cholontourist.com.vn
Email:
xuantrang@mail.ru
HOT & PROMOTION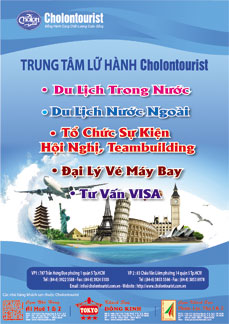 Exchange Rates
| | | | |
| --- | --- | --- | --- |
| Code | Currency name | Buy | Sell |
| USD | US DOLLAR | 23150 | 23250 |
| EUR | EURO | 26035.4 | 26766.05 |
| GBP | BRITISH POUND | 29602.93 | 30076.98 |
| HKD | HONGKONG DOLLAR | 2913.78 | 2978.25 |
| JPY | JAPANESE YEN | 202.43 | 210.81 |
| CHF | SWISS FRANCE | 22810.49 | 23268.66 |
| AUD | AUST.DOLLAR | 16392.07 | 16671.13 |
| CAD | CANADIAN DOLLAR | 17282.86 | 17630.29 |
| SGD | SINGAPORE DOLLAR | 16897.57 | 17202.53 |
| THB | THAI BAHT | 728.23 | 758.61 |
History
HISTORY
The area that is present-day Cambodia came under Khmer rule about 600, when the region was at the center of a vast empire that stretched over most of Southeast Asia. Under the Khmers, who were Hindus, a magnificent temple complex was constructed at Angkor. Buddhism was introduced in the 12th century during the rule of Jayavaram VII. However, the kingdom, then known as Kambuja, fell into decline after Jayavaram's reign and was nearly annihilated by Thai and Vietnamese invaders. Kambuja's power steadily diminished until 1863, when France colonized the region, joining Cambodia, Laos, and Vietnam into a single protectorate known as French Indochina.

The French quickly usurped all but ceremonial powers from the monarch, Norodom. When he died in 1904, the French passed over his sons and handed the throne to his brother, Sisowath. Sisowath and his son ruled until 1941, when Norodom Sihanouk was elevated to power. Sihanouk's coronation, along with the Japanese occupation during the war, worked to reinforce a sentiment among Cambodians that the region should be free from outside control. After World War II, Cambodians sought independence, but France was reluctant to part with its colony. Cambodia was granted independence within the French Union in 1949. But the French-Indochinese War provided an opportunity for Sihanouk to gain full military control of the country. He abdicated in 1955 in favor of his parents, remaining head of the government, and when his father died in 1960, Sihanouk became chief of state without returning to the throne. In 1963, he sought a guarantee of Cambodia's neutrality from all parties in the Vietnam War.

In 1965, however, Sihanouk broke off diplomatic relations with the United States. At the same time, he allowed North Vietnamese Communists, then fighting the Vietnam War against the United States and the South Vietnamese in southern Vietnam, to set up bases on Cambodian soil.

In 1975, despite massive infusions of U.S. aid, the Khmer Republic collapsed, and Khmer Rouge forces occupied Phnom Penh. Pol Pot is a pseudonym for the Cambodian guerrilla commander Saloth Sar, who organized the Communist guerrilla force known as the Khmer Rouge. The Khmer Rouge ousted General Lon Nol in 1975, establishing a brutal Communist regime that ruled until 1979. While in power, the Khmer Rouge murdered, worked to death, or killed by starvation close to 1.7 million Cambodians.

Pol Pot died in 1998, and by early 1999 most of the remaining Khmer Rouge troops and leaders had surrendered. Rebel troops were integrated into the Cambodian army. In 1999 two Khmer Rouge leaders were arrested and charged with genocide for their part in the atrocities.

(source: geographia.com).