ONLINE SUPPORT
Tania ( Ms.)
Cellphone: 0903. 198. 854 Email:
t3nga@cholontourist.com.vn
---
608083874 (ICQ)
Email:
xuantrang@cholontourist.com.vn
Email:
xuantrang@mail.ru
HOT & PROMOTION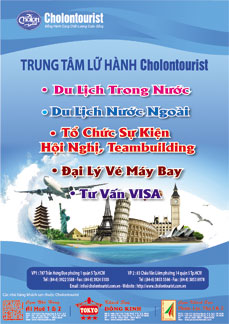 Exchange Rates
| | | | |
| --- | --- | --- | --- |
| Code | Currency name | Buy | Sell |
Geography
GEOGRAPHY
Cambodia is firmly in the tropics and even though it doesn't experience cold weather the two yearly seasons are radically different and can seriously affect your travel plans accordingly. Its 440km-long southern seaboard borders the Gulf of Thailand and features

Bordering Laos in the north, Vietnam in the east, and Thailand to the west, Cambodia has the Gulf of Thailand on its 440km-long southern seaboard many idyllic beaches. More than 60% of its 181,035 square km is forested, with the north and southwest of the country consisting of tropical forest and highlands, while the central basin is fertile land dissected by the Mekong and Tonle Sap rivers.

The capital city Phnom Penh sits at the intersection of these two rivers. The Mekong passes through the entire length of the country. From the northern border, it travels 500km south until it crosses the Vietnamese border in the south.
Cambodia's rich history, glorious civilization and tattered past among some of the reasons that draw the curios traveler. The Khmer rulers had developed an intelligent irrigation system to control the flow of the great Mekong River for the country's agriculture, which enhanced its prosperity.

The once great Khmer Civilization had declined over five centuries ago, but we still see its evidence today in the form of the sprawling Angkor temple complex, wide roads and ancient edifices.

But more importantly, the magnificent era of Cambodia is seen in the Khmer people today – ever calm, polite and warm. Always smiling and dignified.

SIEM REAP

Siem Reap is located on the shores of the Tonle Sap Lake, the greatest sweet water reserve in whole South-East Asia. The proximity of the world famous temples of Angkor north of the city turned Siem Reap into a boomtown in less than half a decade. "Siem Reap" literally means "Siamese defeated", referring to the victory of the Khmer Empire over the army of the Thai kingdom in the 17th century.

PHNOM PENH

The capital of the Kingdom of Cambodia is located at the confluence of three rivers-the Mekong, the Bassac and Tonle Sap. Despite its development, Phnom Penh has retained its charm and character: cyclos that weave through traffic with ease, broad boulevards, old colonial buildings, parks and green spaces, and above all its people who always have a smile for you.

WAT NOKOR

This modern Theravada Buddhist pagoda is squeezed into the walls of an 11th century Mahayana Buddhist shrine of sandstone and laterite. Many of the older building's archways have been incorporated into the new building as shrines for worship. There is also a large reclining Buddha.

(source: geographia.com).