ONLINE SUPPORT
Tania ( Ms.)
Cellphone: 0903. 198. 854 Email:
t3nga@cholontourist.com.vn
---
608083874 (ICQ)
Email:
xuantrang@cholontourist.com.vn
Email:
xuantrang@mail.ru
HOT & PROMOTION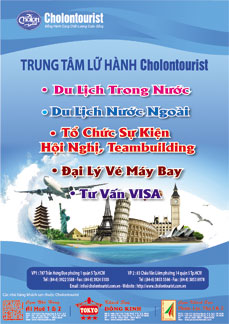 Exchange Rates
| | | | |
| --- | --- | --- | --- |
| Code | Currency name | Buy | Sell |
| USD | US DOLLAR | 23220 | 23300 |
| EUR | EURO | 26589.91 | 26907.26 |
| GBP | BRITISH POUND | 29484.07 | 29956.14 |
| HKD | HONGKONG DOLLAR | 2920.79 | 2985.42 |
| JPY | JAPANESE YEN | 207.3 | 213.8 |
| CHF | SWISS FRANCE | 23228.3 | 23694.8 |
| AUD | AUST.DOLLAR | 16898.98 | 17186.63 |
| CAD | CANADIAN DOLLAR | 17593.52 | 17947.15 |
| SGD | SINGAPORE DOLLAR | 16804.97 | 17108.22 |
| THB | THAI BAHT | 696.43 | 725.48 |
Facts & Travel Tips
FACTS
Country name:
Conventional long form: Kingdom of Cambodia
Conventional short form: Cambodia
Local long form: Preahreacheanachakr Kampuchea (phonetic pronunciation)
Local short form: Kampuchea
Former: Khmer Republic, Democratic Kampuchea, People's Republic of Kampuchea, State of Cambodia

Capital:
Name: Phnom Penh
Geographic coordinates: 11 33 N, 104 55 E
Time difference: UTC+7 (12 hours ahead of Washington, DC during Standard Time)

Location:
Southeastern Asia, bordering the Gulf of Thailand, between Thailand, Vietnam, and Laos

Geographic coordinates:
13 00 N, 105 00 E

Climate:
Tropical; rainy, monsoon season (May to November); dry season (December to April); little seasonal temperature variation

Terrain:
Mostly low, flat plains; mountains in southwest and north

Languages:
Khmer (official) 95%, French, English

Religions:
Buddhist (official) 96.4%, Muslim 2.1%, other 1.3%, unspecified 0.2% (1998 census)

Population:
14,952,665 (July 2012 est.)

TRAVEL TIPS IN CAMBODIA

Passport:
You must hold a valid passport to enter Cambodia. Your passport must be valid for a minimum period of six months from the date of entry Cambodia beyond your intended return date.

Cambodian Visa:
A Cambodian visa is required for most nationalities who visit Cambodia. However, the nationals of Laos, Singapore, Malaysia, Vietnam, Thai, Indonesia and the Philippines do not need a Tourist Visa. They are permitted to stay in the Kingdom for 30 days (21 days for the Filipino national).
Tourist visa costs $20/person. Two recent passport-size photos in digital format (JPEG or PNG format) are needed.

There is more than one way to obtain a Cambodian visa:
1. Apply for a Cambodian Visa through the Embassies of Cambodia
You complete the visa application form and submit it to the local embassy or the Cambodian Embassies/consulate abroad together with:
- Two passport-sized photos
- Passport (original) with minimum 6 (six) months validity
- Include US$20 fee for a tourist visa and US$25 for business visa

2. Apply for a Cambodian Visa on arrival
Tourist visas for most nationalities can be obtained on arrival at Phnom Penh or Siem Reap airports for US$20 cash. A visa form will be issued to you on the airplane or on arrival. The process of the issuance of a visa on arrival is quick and easy, taking about 20-30 minutes only. Two passport photos are needed to accompany your visa application.
30-day tourist visa: US$20.-

* A Cambodian visa on arrival is also available at overland crossings of the following check points:
- Svay Rieng Province : Bavet/Moc Bai (Cambodia-Vietnam)
- Kandal Provice : Kha' om Sam Nor (Cambodia-Vietnam)
- Prey Veng Province : Koh Rorka (Cambodia-Vietnam)
- Koh Kong Province : Cham Yiem (Cambodia-Thailand)
- Banteay Meanchey : Poipet (Cambodia-Thailand)
- Udor Meanchey : O' Smach (Cambodia-Thailand)
- Stung Treng : Dong Kralor (Cambodia-Laos)

3. Apply for e-visa on the website of the Ministry of Foreign Affairs and International Cooperation.
The Ministry of Foreign Affairs and International Cooperation has launched e-visa which enables you to apply for a Cambodian Visa online. Instead of applying through Cambodian Embassies, all you need is to complete the online application form and pay with your credit card. You will get your visa approved within 3 business days. After receiving your visa through your email, print it out and bring it along when you travel to Cambodia.
Here is the website for e-visa: www.mfaic.gov.kh

Tourist Visa
Entry Type Single Entry only
Fees US$20 + US$5 (Processing Charge)
Validity 3 months (Starting from the date of issue)
Length of stay 30days
Requirement A six-month valid passport & a recent passport size photo, a valid credit card (Visa/Master)

*Currently e-visa is available for entry and exit ports as bellows:

a/ Valid port of entry
- Phnom Penh City : Phnom Penh International Airport
- Siem Reap : Siem Reap International Airport
- Koh Kong Province : Cham Yiem (Cambodia-Thailand)
- Banteay Meanchey : Poipet (Cambodia-Thailand)
- Svay Rieng Province : Bavet/Moc Bai (Cambodia-Vietnam)

b/ Valid port of exit
- Phnom Penh City : Phnom Penh International Airport
- Siem Reap : Siem Reap International Airport
- Sihanouk Ville : Phreah Sihanouk International Airport
- Svay Rieng Province : Bavet/Moc Bai (Cambodia-Vietnam)
- Kandal Provice : Kha' om Sam Nor (Cambodia-Vietnam)
- Takeo Province : Phnom Den (Cambodia-Vietman)
- Kratie Province : Trapaing Sre (Cambodia-Vietnam)
- Oddar Meanchey : Chorm (Cambodia-Thailand)
- Kamrieng Battambang : Daung (Cambodia-Thailand)
- Pailin : Prom (Cambodia-Thailand)
- Udor Meanchey : O' Smach (Cambodia-Thailand)
- Koh Kong Province : Cham Yiem (Cambodia-Thailand)
- Banteay Meanchey : Poipet (Cambodia-Thailand)
- Stung Treng : Dong Kralor (Cambodia-Laos)

***Note: Visas, on-arrival visas and e-visas are not available for nationalities of the following countries:
- Iraq
- Iran
- Pakistan
- Afghanistan
- Bangkladesh
- Arab Saudi
- Algeria
- Sudan
- Sri Lanka
The above nationalities have to apply for a Cambodian visa from the nearest Cambodian Embassies/consulate in advance before arriving Cambodia and hold a letter of invitation from the host company or host organization in Cambodia. Please contact us for more details.

Weather:
Cambodia's climate is dominated by monsoon, which is known as tropical wet and dry because of the distinctly marked seasonal differences. Minimum and Maximum temperature of the day in Cambodia is 220C – 340C. Practically speaking, Cambodia has four seasons:

1) Nov-Feb(Cool and dry): best weather of the year across the country - comfortably warm days, clear skies, no rain, light breeze, cool evenings. Ideal beach weather

2) Mar-May (Hot and dry): March is still comfortable but by April, mid-day temperatures can hover in the mid to upper 30 0C. It is less breezy at this time of year, the sun can be quite intense and the air becomes hazier with the rising humidity. April is the hottest month of the year.

3) June-August (Hot and wet): The hot season continues but is fairly quickly moderated as the monsoon rains begin in May and June, cooling, if only a bit, the hot, humid air. The afternoon rains usually last no more than a couple of hours making it fairly easy to plan around.

4) September-Early November (Cool and Wet): The rains are still very regular and intense in September, but by October the frequency is usually dropping off considerably. By the end of October the rains are close to stopping completely.

Clothing:
Lightweight, loose-fitting, cotton clothing is recommended and long-sleeved items should be included for protection from mosquitoes and the sun. A hat and sunglasses will be useful for when walking around under the sun.
During the rainy season an umbrella is more convenient than a rain coat. A light rain poncho (plastic ponchos can be purchased cheaply in Cambodia) or a sturdy umbrella. A light jacket or cardigan will come in handy during the months of December and January, when temperatures are at their coolest.

Food:
The staple food for Cambodians is rice, and today rice is consumed by most Cambodians daily and with all meals, utilizing a great number of cooking styles and techniques. In fact, Cambodians eat more rice than any other people in the world. Plain white rice is served with nearly every family meal, typically served with grilled freshwater fish, a samlor or soup, and an assortment of seasonal herbs, salad leaves and vegetables.
Phnom Penh and Siem Reap offers an amazing range of cuisines and dining venues. The emphasis is, of course, on Khmer/Cambodian food, which can be found at restaurants across town. But European and other Asian cuisines are also well represented, including Chinese, Thai, Indian, Korean, Italian, German, Vietnamese, Japanese and, of course, French.

Transports:
Appropriate, good conditioned vehicles driven by an experienced driver will be used for taking visitors around during the visit in Cambodia. However, modern, latest and up-to-date models can be arranged at high charge.

Currency:
The national currency is Riel. However, US dollars are also widely in circulation in Cambodia. Only (new) undamaged notes are accepted. Notes with the slightest tear will not be accepted.
There is no coinage in Cambodia, only currency notes.

Exchange:
There are banks in the Capital and provincial towns in Cambodia, including Phnom Penh, Siem Reap, Sihanoukville, Kampot and Battambang. The banks offer the usual banking services - cash advances on credits cards (most accept Visa card,) international currency exchange, telegraphic transfers, cash travelers checks and ANZ Royal Banks, Canadia and SBC Banks offer ATMs with international access. Most banks are open from 8:00 to 15:00 or 16:00PM, Monday through Friday. Some are open Saturday mornings until 11:30. ATMs are available 24 hours.
Money Changers offer a slightly better rate than the banks. They are plentiful and tend to cluster around the traditional markets and there is usually a section within the market dedicated to moneychangers and gold sellers. The exchange rate may fluctuate sometimes. Ask your guide for assistance and updates.

Credit Card:
Credit cards are accepted at most upscale hotels, shops and restaurants, some mid-range place and a growing number of other businesses. Credit cards are general not accepted at any businesses outside of Phnom Penh, Siem Reap, Sihanoukville. Visa, MasterCard (MC) and JCB cards are the most widely accepted credit cards in Cambodia. AMEX is coming into wider use, as well as the new ANZ Bluespot card. Diners Club (DC) is accepted at very few place. Most businesses charge a 2% -> 4% fee to accept credit cards.

There are now ATMs with international access in Phnom Penh, Siem Reap, Sihanoukville, Kampot and Battambang. ANZ Royal Bank and Canadia Bank ATMs both accept Cirrus, Plus, Maestro, Visa and MasterCard systems. SBC Bank ATMs accept Visaand MasterCard. All ATMs dispenses US dollars. There For locations see the ATM icons on the city maps.

Traveller checks are accepted at most banks, major hotels and restaurants and some money changers. AMEX in US dollars are the most widely accepted travelers checks.

'Instant' cash transfers can be done through MoneyGram or Western Union. Ordinary telegraphic transfers are available at all major banks.

Customs:
No restriction on electrical devices such as PC, camera, GPS, etc. A maximum of USD 10,000.- or equivalent is allowed. Exceeding amounts must be declared on arrival. Visitors of 18 years old or older are permitted to bring the following into Cambodia:
- 200 cigarettes or its equivalent quantity in tobacco;
- One opened bottle of liquor;
- Perfume for personal use.
Cats and dogs must be accompanied by Veterinarian Good Health and Rabies Inoculation Certificate issued at the port of origin. Visitors are prohibited from carrying antiques or Buddhist reliquaries out of the country. Souvenir stand purchases, like Buddhist statues and trinkets, can be taken out of the country.

Electricity:
Electricity in Cambodia is 220 Volts, alternating at 50 cycles per second. If you travel to Cambodia with a device that does not accept 220 Volts at 50 Hertz, you will need a voltage converter. Cambodia plug adapters and outlet generally accept 3 types of plug: flat blade plug, two round pins, two parallel flat pins with ground pin. Adapters can be purchased at many electronic shops in Cambodia.

Communication:
You can bring in your mobile but it doesn't work. However, Cambodia allows international roaming. 3G mobile phones would not be allowed to support video calling. Landline and mobile service is available to all countries from Phnom Penh and major provincial cities.
International telephone service is available at all major hotels, most Internet shops, many of the guesthouses and the main post offices in all major cities including Siem Reap, Phnom Penh, Sihanoukville, Kampot, Battambang and Banlung. International telephone is reliable if not a bit expensive, averaging US$3-$5/minute. Most internet shops offer very inexpensive internet telephone. The international country calling code for Cambodia is 855. Cambodian telephone numbers are usually listed beginning with a '0' (e.g. 023-123456.)

Internet/email:
It's available most of the major cities. Public internet access is fast, inexpensive and available at internet shops located across Siem Reap, Phnom Penh, Sihanoukville, Battambang, Kampot and Koh Kong. Prices average about $1.00/hour. Many of the hotels and guesthouses in Siem Reap and Phnom Penh also have internet available with some offering in-room wifi. And growing number of restaurants, bars and coffee shops also offer wifi internet access.

Health:
Although no vaccinations are officially required for entry to Cambodia, they are highly encouraged. Visitors are advised to check with their doctor or a travel immunization clinic regarding protection against malaria, typhoid, tetanus, hepatitis A and B. Any essential medications should be brought with you as there is no guarantee they will be available in Cambodia. Other hand Malaria risk should be considered carefully if travelling to the border regions of Cambodia but is not a significant problem for the visitor around the main tourist areas of Angkor Wat, Siem Reap, Tonle Sap and Phnom Penh.

Tips:
Though it's not compulsory, tips is a way to show your satisfaction and as a token of present. So, feel free to adjust at your own budget. But, here are a few suggestions.
2 persons group size
USD 10/day to guide
USD 5/day to drivers.